Most ingredients are either found in your pantry or are currently on sale at your local grocery store.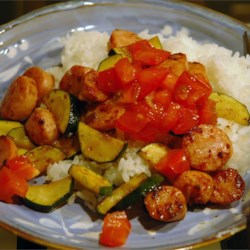 2 Zucchini squashes, cut length wise, then in half (@Bi-Lo $1.28/lb)
1 lb Carolina Pride Smoked Sausage, cut into 1 inch pieces (@Bi-Lo $1.99)
In a skillet over medium heat, brown the sausage. Remove sausage from skillet and set aside. Add margarine, zucchini, and onion to the skillet and cook until zucchini is crisp and tender. Return the browned sausage to the skillet and add garlic salt, oregano, and black pepper. Cook until all ingredients are hot. Add chopped tomatoes on top of the ingredients. Serve over rice.
And that's What's For Dinner! Did you try this recipe? Let me know how your family liked it!