I'll be doing a What's For Lunch? and What's For Dinner? blog for quick and easy lunches and dinners using ingredients you either have on hand or are currently on sale in the grocery stores. So, without further ado, What's For Lunch?
Bagel pizzas!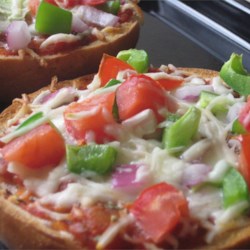 Ingredients currently on sale until 6/28:
-Lender's Bagels 6ct. (@Publix $1.09)
-Del Monte Tomato Sauce 8oz (@Publix, 32¢)
-Publix brand shredded cheese 16oz (@Publix $3.99)
Preheat oven to 400 degrees
Combine all pizza sauce ingredients
Spread sauce on bagel halves
Top with fresh veggies, pepperoni, bacon, anything you have on hand.
Bake until cheese has melted, about 12-14 minutes
What did YOU have for lunch?