Asian Sesame Yellowfin Ahi Tuna with Roasted Asparagus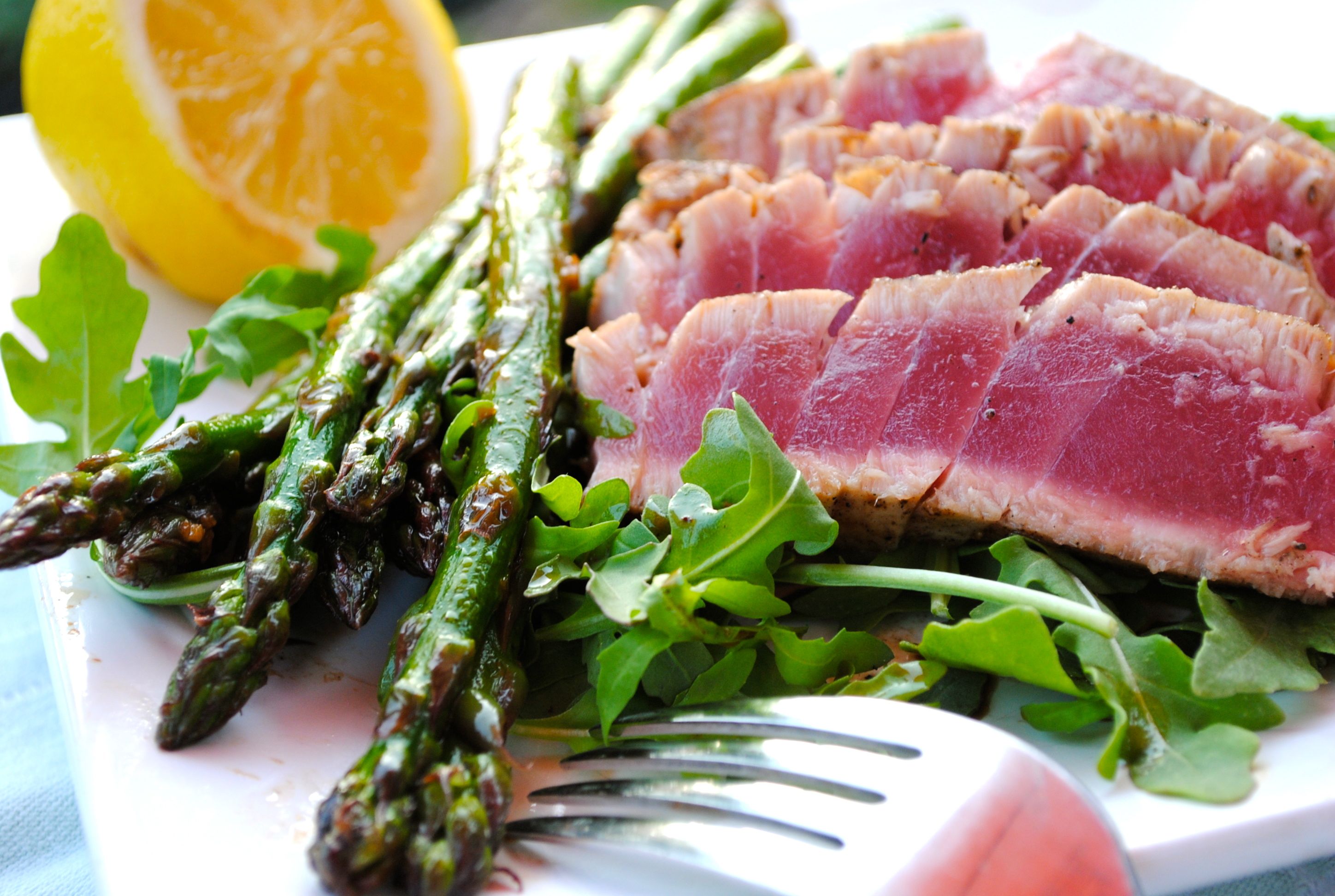 We had this tonight, and it was a big hit!
Ingredients:
2 lbs. Ahi tuna steaks
1/3 cup honey
1/3 cup thinly sliced green onions
2 T. soy sauce
2 T. toasted sesame seeds
1 T. minced garlic
1 t. minced onions
3/4 t. ground ginger
1/2 t. crushed red pepper (optional)
Mix all ingredients, except tuna steaks and red pepper flakes, in a small bowl. Stir in red pepper to taste. Place steaks in a 13x9 baking dish. Spoon mixture evenly over tuna.
Roast tuna in a preheated 375 degree oven for 20 minutes or until fish flakes easily with a fork. Baste occasionally with the honey mixture.
Roasted Asparagus
Ingredients:
1 lb asparagus
1 1/2 T olive oil
salt
Remove the woody bottom part of asparagus spears (the bottom inch or two)
Place asparagus on a foil lined baking sheet and drizzle with olive oil.
Sprinkle with salt to taste.
Toss spears to evenly coat with olive oil.
Roast in a 425 degree oven for 10-15 minutes to desired tenderness. The spears should be tender when pierced with a fork.
My family eats fish maybe once every few weeks, so since we don't eat it very often I get the individually vacuum packed steaks. The brand I used tonight was Full Circle Wild Caught, All Natural Yellowfin Ahi Tuna Steaks. I was really surprised that the size and thickness of the steaks were quite big. Will definitely buy again! Let me know if you tried this... would love to know how your family liked it.w